about
 METE ERKER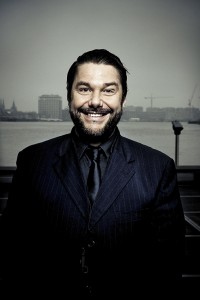 Dutch saxophone player Mete Erker is renowned for his rich and warm sound, strong drive, and his very personal style and expressive way of playing: a combination of raw energy and lyricism, at times reminiscent of the great jazz tenors of the '60's.
Throughout the years he's worked with music masters like Peter Erskine, David Liebman, senegalese master drummer Doudou N'Diaye Rose, southafrican jazz legend Winston Mankunku, and russian piano virtuoso Simon Nabatov.
He released 50+ albums and toured the world in a variety of settings, ranging from  a modern dance choreography by the hungarian Reka Szabo to popular dutch crossover acts like New Cool Collective and Zuco 103.
Currently Mete Erker is working with the Artvark Saxophone Quartet featuring classical soprano Claron McFadden, dutch-impro-group Estafest, the NUjazzgroup FullDuppleXX, electronic soundwizard Michel Banabila, and his own Mete Erker Trio.
Mete Erker Trio
Mete Erker is een saxofonist met een zeer persoonlijke benadering van muziek. Zijn spel wordt gekenmerkt door zijn prachtige heldere toon, en de combinatie van rauwe energie en lyriek.
Mete Erker speelde met internationale grootheden als Peter Erskine, David Liebman, Dudu Ndiaye Rose en Winston Mankunku, en draait al jaren mee in de top van de nederlandse scene, van New Cool Collective tot Conny Janssen Danst.
Erker is mede drijvende kracht achter Estafest, met Anton Goudsmit, Jeroen van Vliet en Oene van Geel, en achter het vermaarde Artvark Saxophone Quartet.
In 2015 ging Erker's Near East Up North in premiere in het Muziekgebouw aan 't IJ: een suite geschreven door Martin Fondse, uitgevoerd door ensemble Asko|Schoenberg en de Turkse kemence virtuoos Derya Türkan. 
In de grote verscheidenheid aan projecten waar Mete Erker bij betrokken is voegt hij een eigen signatuur toe aan het klankbeeld; solistisch of onderhuids, altijd in dienst van de muziek.
Maar met het Mete Erker Trio treed hij voor het eerst alleen als solist op de voorgrond. Hij neemt daarbij alle ruimte om volledig zijn eigen spel te spelen, open en direct, vers van de lever. Het fantastische ritmetandem bassist Johan Plomp en drummer Makki van Engelen complementeert de band.
Het Mete Erker Trio presenteert in 2017 hun tweede album: Live!