DUO
Mete Erker & Jeroen van Vliet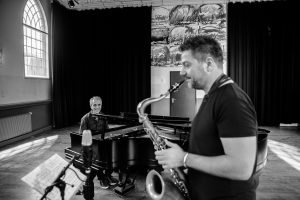 Saxophonist Mete Erker and pianist Jeroen van Vliet have been partners in crime & music for 30 years. They will celebrate this with the release of a new duo-album on April 1st 2019. Mete Erker and Jeroen van Vliet play hyper-interactive, poetic music: exciting improvisations and beautiful songs.
Watch "The Known": VIDEO The Known
Watch "No Farewell": VIDEO No Farewell
'Erker & van Vliet: one of Holland's finest improvising duo's"
VOLKSKRANT
It all started in 1989 with the Erker Kwartet. The only prove of this first musical encounter is an actual old-school demo tape. Since then they have been working together in an astounding amount of projects of great musical diversity: from the album Hommage of South African trumpeter Feya Faku, the modern dance choreography Sparring Partners of Holland's great Connie Janssen, to the project Near East Up North, initiated by Mete Erker in 2015, with the renowned ensemble Asko Schönberg and kemençe virtusoso Derya Türkan. In all those years they also worked together as a duo on many occasions, with highlights such as a concert in Teatro Municipal in La Paz, Bolivia and the release of their duo-album Unseen Land, with compositions inspired by the work of artist Mattie Schilders.
In 2014 Jeroen van Vliet won the prestigious Boy Edgar Prijs.
In 2016 the duo released the album Linden with Swiss singer Kristina Fuchs.
In the same year they released the third album of hard-core impro group Estafest for the renowned Hungarian label BMC in Budapest, followed by an extensive tour in 2017.
Mete Erker – saxofoon
Jeroen van Vliet – piano
www.mete.nl
www.jeroenvanvliet.com
information&bookings:
nora@induplomusic.com
+31(0)6 11 86 6262

LINDEN
Kristina Fuchs,
Mete Erker,
Jeroen van Vliet
new album release 2017:
http://www.kristinafuchs.com
check this clip from a previous tour: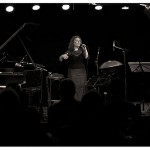 WATCH  
Jazz from the Swiss Alps!
Im Roseligarte
live  at the BIMhuis Amsterdam.